2019 Tableland Hardware Tinaroo Barra Bash – Winners -Catch and Release

Total Nominations:  (563 Adults, 213 Junior, 77 Smallfry)
Warm Sunny weather. Always calm on the dam:) Sunday was a  beautiful Tableland day with good crowds for the Presentation Event.
Great odds to win $10,000 CASH. Just buy a ticket and be there at the Presentation Event.
Entries Submitted:  (220 Barra,  41 Sooty Grunter, 87 Redclaw, 931 Catfish and 125 Tilapia)
Funds raised will be used by the Tableland Fish Stocking Society to purchase and raise Barramundi and Sooty Grunter for restocking and to maintain the Barrier Net, which is used in times of high rainfall as it provides a guard from losing fish over the dam's wall.
Tableland Hardware $10,000 Cash Adult Nomination Draw –
Clint Zaicz (Tableland Hardware Atherton) with Darryl Panigas & Thomas Tiepner (Outback Operations Manager)
 Cairns TackleWorld Junior Nomination Draw –
Blake Wojshowicz
Mareeba Mazda 6&Under Nomination Draw–
Lacy Bonadio
Bills Marine- Champion Angler –Liam Casella-22 Barra measuring 13.67metres.
with Ann Leighton TFSS, Liam and Scott Heinemann Bills Marine
Tolga Traders – 2nd Place Champion Angler –Alan McDonald-12 Barra measuring 9.85metres.
Cairns to Cape 4×4- 3rd Place Champion Angler –Jack Centofanti-11Barra measuring 7.28metres
Chris Dempsey Cranes Longest Barra Mens – Rod Smith 121cm Barramundi
Bono's Excavations 2nd Place Longest Barra Men's-Lawrence Petersen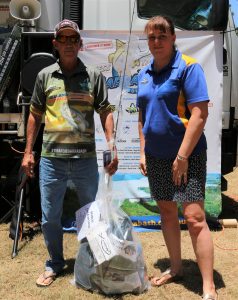 Anaconda Longest Barra Ladies – Sarah Cummings 114cm Barramundi
Taylor Brothers Adventures 2nd Place Longest Barra Ladies-Myleigh Pocius-107cm
Optimus 1 Insurance Longest Barra Junior Girl-Arianny Moros-102cm Barramundi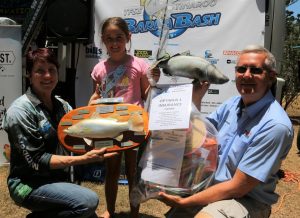 Longest Barra Junior Boy Tableland Batteries-Anthony Simonato-118cm Barramundi
Fresh St. IGA Atherton Mystery Length Barra-Dean Mansfield
Junior Encouragement Awards-
Lani Maro,  Kayden Crowley, Carlee Bloomfield
Dunnrite Metal Buildings Cairns-Longest Sooty Grunter Adult –Noah Bradford-52cm
Coral & Don Abdy Memorial Trophy-Overall Longest Sooty Grunter
Noah Bradford with Reg Abdy.
SportsPower Longest Sooty Grunter Junior-McAuley Ballin 47cm
Choices Flooring Atherton Mystery Sooty Grunter-Elizabeth Price
Smallfry (under 6) Encouragement Award –
Smallfry Encouragement Awards-
Hudson Taylor, Jack Hawkins & Shelby Sellwood
Jill Piggott Memorial Encouragement Award RFDS Near & Far Auxillary –
Presented by Brenda Aguis
Troy Taylor-95cm Barramundi, Hannah Smith-91cm Barramundi
Bigga Skips & Allens Signs & Tints
Most Tilapia Junior & Smallfry –Bree Taylor-19
Most Caught Tilapia Adult- Callum Warry-17
Longest Individual Redclaw Junior –Jack Hart-43cm
Pumping & Irrigation & StickLizard Containers
Most Caught Catfish-Cooper Tunsted-92 Cats
Adrian's Fishing & Tackle Most Caught Catfish Encouragement Awards-
Ashley Browning, Joel Messer,Ash Rosenfeldt and Mia Leighton
A Huge Thank you to all our community for supporting Lake Tinaroo,
Atherton Tablelands and Tableland Fish Stocking Society. It is Much Appreciated.